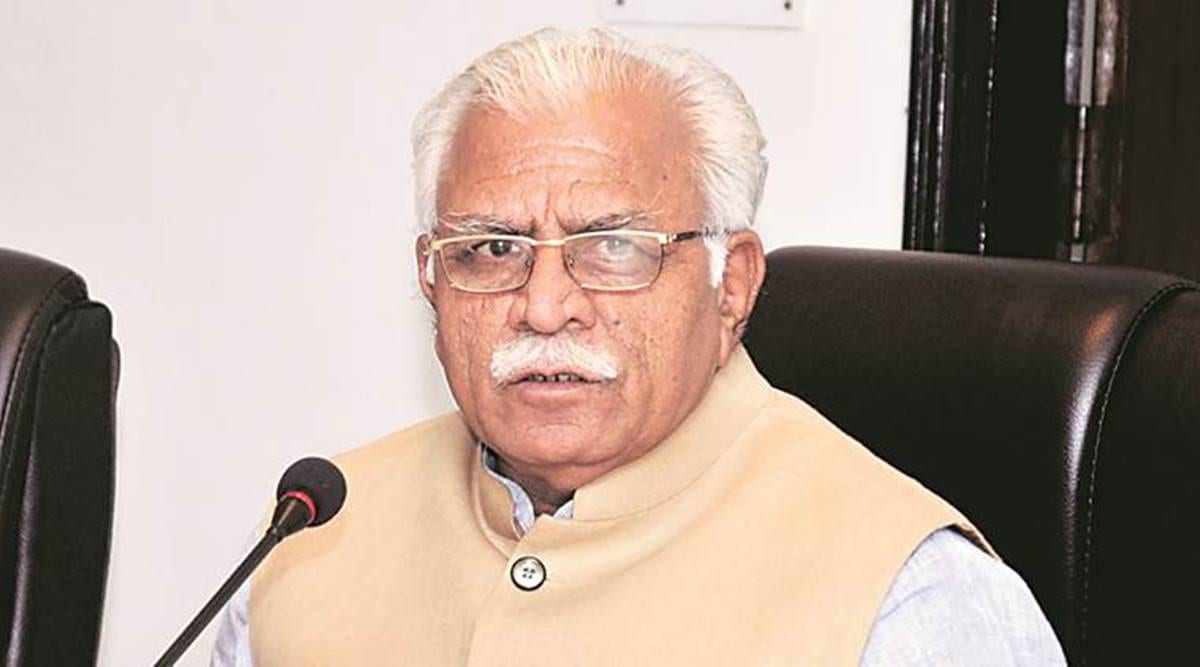 Haryana CM Manohar Lal Khattar is set to hold a kisan mahapanchayat  Sunday at village Kaimla in Karnal, the constituency that the CM represents in the Vidhan Sabha.
Amid ongoing protests of farmers against the three farm legislations, state government and Karnal district administration on Saturday held multiple meetings with various farmer union leaders to ensure no law and order disruption during Khattar's kisan panchayat.
Senior officers of the district administration led by Nishant Yadav, Deputy Commissioner, Karnal, held multiple rounds of meetings, beginning Saturday morning. Senior police officers were also present during the meeting.
"There are factions of farmers and various unions that are even openly supporting the three farm legislations, who are going to welcome the CM on Sunday. However, there are other factions that are in protest against these laws. To avoid any confrontation before or during the event, the district administration had spoken with all the concerned farmer unions and advised them not to indulge in any law and order disruption," one of the senior officers told The Indian Express.
Various senior leaders of BJP and JJP have been facing protests during their public appearances for the last many days. In one of such incident, Khattar's cavalcade was also obstructed by an agitated mob of farmers in Ambala a few days ago. Earlier, Home minister Anil Vij's cavalcade had also hit a blockade when the angry farmers shouted anti-government slogans.
Various others including Deputy CM Dushyant Chautala, Agriculture Minister J P Dalal, Education Minister Kanwar Pal and various BJP MPs had been facing such protests outside their residences in their respective constituencies and their public appearances as well.
After Khattar's cavalcade was obstructed, Ambala's then SP Rajesh Kalia was shunted out of the district.
Farmers also disrupted BJP's programme in Barwala, Saturday resulting in immense chaos. Farmers had earlier announced that they would not allow any BJP or JJP leader to hold their scheduled public events across the state unless the three farm legislations are repealed.
According to the officers, stringent security measures have been put in place in and around the venue where Khattar is scheduled to interact with farmers and address the gathering, Sunday.
Cong to gherao Raj Bhavan
A meeting of Haryana Congress leaders, chaired by Haryana Congress in-charge Vivek Bansal was organised at Gurdwara Rakabganj Road in New Delhi. "Discussion was held about the farmers' movement and the upcoming panchayat elections to be held in Haryana. Congress party is constantly fighting against the anti-agriculture black laws and has stood firmly with the farmers. On January 15, Haryana Congress will gherao the Raj Bhavan in support of the farmers against these black laws," Bansal said.
HPCC chief Kumari Selja added, "Instead of repealing the black laws, government is constantly pretending to negotiate. More than 60 farmers have sacrificed their lives in this bitter cold-rain."
Leader of Opposition Bhupinder Singh Hooda said, "In this difficult time, the Congress party has stood with farmers at every stage and is helping them in every possible manner. Today, farmers are sitting on roads in this fierce cold and are constantly struggling, but the BJP government is bent on dictatorship.